Events to plan for!
C A L E N D A R - O F - E V E N T S
WINTER EVENTS
Dec - February
SPRING EVENTS
March - May
SUMMER & FALL EVENTS
June - October
Click tab for more events
Winter concerts and events
Check here for further information: www.pacificrimarts.ca
Sailpast
Mid December
A fun event for kids of any age! Join the sound and light parade of boats, best viewed from the Main Street dock at Ucluelet's Whiskey Landing. Hot chocolate and cookies.
Aquarium Release Day,
December
Come down to the Ucluelet Aquarium and help release all the special little creatures back into the wild! This all ages event is free and will begin at 11 am and will finish once all the creatures, and the (quite large) octopus is back in the ocean. Bring your family, friends. Last chance to visit until the spring.
Storm Watching Season
Regular high winds off the west coast are delighting storm-watchers with really impressive waves. Click here for a storm watching page. Watch the breathtaking beauty and power of a winter storm, followed by fine dining and a cozy room. The ideal winter get-away! The west coast is GREEN year round and coastal breezes keep the temperatures mild. Room rates are low and the beaches are empty. Mild west coast weather becomes punctuated with wildly powerful storms. Rainbows, surf pounded beaches, mists and storm clouds alternate in beauty. Experienced surfers also enjoy the biggests waves of the year.
Click here for Current Weather Forecast

Current and forecasted: Wave and Surf Conditions   •Current Tide Tables
Click here for a special storm watching page
Tofino Film Festival
February
Annual film festival in the Clayoquot Sound Community Theatre. Great event, visit this site for details: www.tofinofilmfestival.com
Mazoola Theatre
February
A performace of school children with the guidance of a traveling theater group.
Pacific Rim Whale Festival
MARCH
Gray Whales have heralded the coming of spring along the west coast of Vancouver Island for thousands of years. Grays travel close to shore, pausing to feed in shallow waters, providing excellent viewing opportunities from strategic shore locations or get aboard a whale watching tour.
As well as the unique opportunity to see these huge marine mammals, the festival offers daily educational and fun events in Pacific Rim National Park, and the communities of Ucluelet and Tofino designed to involve the whole family. Ocean scientists and whale researchers present programs about whale migration, biology and the conservation efforts that have brought the Gray whales back from the edge of extinction. There will be lots to see, do and learn, so come on over to the wild west coast to see the Gray Whales on Parade! Click here for an action packed calendar of events for whalefest coming back in 2020: pacificrimwhalefestival.com
Art Splash
MARCH
Pacific Rim Arts Society's Annual Spring Art Show
West Coast artists' work on display and available for purchase. Come view paintings, drawings, ceramics, 3-D & multi-media works, jewellery, photography, carvings, sculpture & more. This event grows every year, plan to attend! www.pacificrimarts.ca
Great Gray Whale Migration
In the Nuu-Chah-Nulth language, April is aptly known as the Month of the Flying Geese. In addition to the thousands of Gray Whales that migrate past our shores in April, tens of thousands of birds and wildfowl reach the West Coast in their annual migration. Gray Whales continue to pass the shoreline as well .
BC Arts & Culture Week
April 2019
Running at your local art shops
Annual Earth week EVENTS:
April 22 is Earth Day, but events occure all week.
Events all week by the Tofino-Long Beach Chamber of Commerce, Raincoast Education Society and many other community activities.

Shorebird Festival
Early May
Tens of thousands of birds and wildfowl reach the West Coast in their annual migration. Ucluelet/Tofino is directly in the path of the Pacific Flyway, and is an ideal location for nature watchers. Overhead large flocks of birds fill the sky. The estuaries along Barkley Sound and Clayoquot Sound are resting places for the flocks.
The Tofino Shorebird Festival is includes a full range of events for birders of all levels: guest talks from local researchers, a guided kayak birding tour, a guided voyage to see the birds of Cleland Island, and more! Visit the Tofino Shorebird Festival webpage for the full list of events.

Click tab to see other events or visit:
Wild Pacific Trail Interpretive Walks
May to September in Ucluelet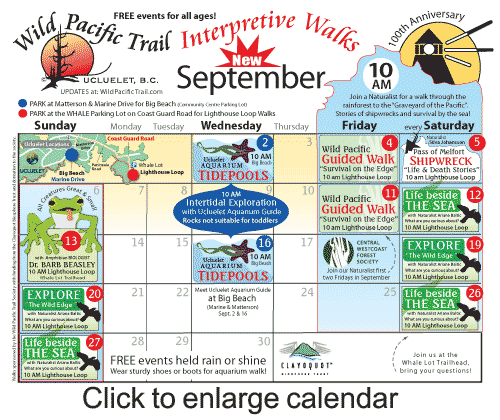 Interpretive walk on WILD PACIFIC TRAIL FREE naturalist-led events are designed for all ages and abilities. Learn from experts about this uniquely rare environment tracing the edge of the sea. Visit www.wildpacifictrail.com for more information
Summer Markets in both Tofino and Ucluelet
TOFINO PUBLIC MARKET
Weekends June through September
Tofino Village Green. Artisan wares and upcycled creations, fresh local food and beverages, plus live entertainment for the whole family! www.tofinomarket.com
UKEE PUBLIC MARKET
Ucluelet Village Green ( across from the aquarium)
Make it, grow it, gather it" evening market. Rain or shine weekly non-profit free event on the Village Green. Crafts, great coffee, fresh local food and live entertainment for the whole family. See facebook for current events.
RIP CURL PRO TOFINO
June TBA
Rip Curl Pro Tofino is Canada's largest surfing competition and the only one in Canada open to all divisions. Sanctioned by the Canadian Surfing Association, it's also the Canadian Surfing Championship. www.ripcurlprotofino.com/
Edge to Edge Marathon or Half Maraton
Mid June
COURSE INCORPORATES WILD PACIFIC TRAIL – www.wildpacifictrail.com! The course will now be off the main highway, with start and finish in Ucluelet. Register early. Contact the Edge to Edge Marathon or call the Ucluelet Chamber of Commerce for details (250-726-4641).
Van Isle 360 (Yacht Race)
June alternate years
The Van Isle 360 is an international yacht race circumnavigating Vancouver Island for 3 weeks in June every two years. vanisle360.com
Aboriginal Days
June 21, yearly
Aboriginal Day celebrations at Pacific Rim National Park Reserve and many communities. Performances of dance and music.
Long Beach Golf Tournaments
April through September
PGA of BC, West Coast Shootout, PGA of BC Pro events. Visit longbeachgolfcourse.com or call 250-725-3332.
Summer Surf Jam
May & June
BC Surfing Association competition will attract national and international surfers to Cox Bay Tofino. DJs, BBQ and food. Free for spectators.
Canada Day July 1,
The West Coast's annual celebration of Canada's Birthday. Festivities include Colour Guard Parade, children's crafts and activities, sand castle competition, beach volleyball, free family BBQ and more! Sponsored by Pacific Rim National Park Reserve, activities will take place on Wickaninnish Beach and in Ucluelet.
Summer Music Fest
Pacific RIm Art Society will hosts fun-filled days of music, dance, theatre, visuals, and art in Tofino and Ucluelet. Visit pacificrimarts.ca for details.
Ukee Days
Third week in July, Ucluelet
Ukee Days is a 3-day weekend long festival celebrating westcoast life featuring Logger Sports Canadian Championships, live music and performances, awesome food and retail vendors, a fantastic parade, beer gardens, pancake breakfast, Salmon & Oyster BBQ, hilarious contests and so much more. A popular highlight is a "Nail, Sail, Bail" boat race on the harbour. Link to details.
Lantern Festival
Mid August
Build a paper lantern then bring your creation to the festival at the Tofino Botanical Gardens for a walk through magical forest paths and reflecting pools. Performers add music from the shadows. Visit www.raincoasteducation.org for more info.
CARVING FESTIVAL
September, Tofino
IThis festival celebrates the art of carving with workshops, demos and an art show. Evening programs. Details at carvingedgefestival.com
CULTURAL HERITAGE FESTIVAL
Fall events
It's about art and West Coast life as one. Join the Pacific Rim Arts Society in exploring art forms that represent the diversity in the cultural heritage of the west coast. The Cultural Heritage Festival returns to Tofino, Ucluelet and the West Coast Region. Visit pacificrimarts.ca for details.