Long Beach Lodging Guide

Ucluelet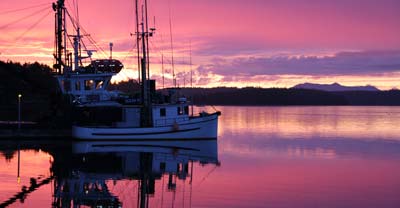 UCLUELET: South of Pacific Rim National Park
Ucluelet is located on a scenic peninsula with water views on all sides. The Wild Pacific Trail sketches the Pacific Rim and marinas enjoy the shelter of the harbour side. Ocean views are framed by small beaches and rocky headlands. The village center is easy to walk and lodging ranges from resorts to small B&B's. For more information visit the website below. Rates are listed according to season.
Tofino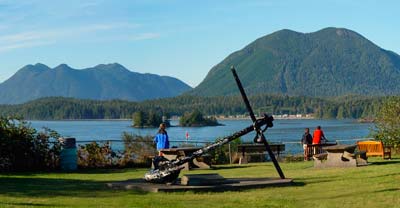 TOFINO, BC: North of Pacific Rim National Park
Tofino is located on a peninsula with the open ocean to the west and a scenic inlet to the east. Central Tofino is gathered on the northern tip facing Meares Island to the north. Sandy beaches scallop the pacific rim and a bird sanctuary protects the inlet side. Snow peaks hover in the views of Clayoquot Sound.
Rates are listed according to season below
location

Rates According to season

UCLUELET ACCOMMODATION


Map #

D e s c r i p t i o n
Click map # next to descriptions for correct map

S e a s o n
Low versus High
in Canadian Dollars

X1


click to view

A SNUG HARBOUR INN 460 Marine Drive 1.888.936.5222 or 250.726.2686


Spectacular ocean view. Nestled on a cliff overlooking the rugged Pacific coast, this romantic Inn has 6 luxury rooms with fireplaces, private decks & jetted tubs. Hot tub on Main Deck, large stone fireplace in Great Room. Adults only!

$190
Low Season

$270 +
High Season

_W_

ANCHORS INN 131 Garden St.250-726-8255 or 1-866-313-8108

Two cozy waterfront cabins for couples. Great view, vaulted ceiling, queen bed, kitchenette, fireplace, BBQ, & private outdoor jacuzzi tub. Pets welcome.. anchorsinn.com

$135+

$185+

A3


BALSAM & TAMARACK HOUSE 220 Albion Cres. 250-726-7087
Waterfront 3 bedroom duplex vacation homes 5 minutes to beaches in Pacific Rim National Park & 5 minutes to Ucluelet. atamarackhouse.com Prices based on up to 4 people.


$100

$175

BLACKROCK OCEANFRONT RESORT 2596 Marine Drive 250.726.4800
Black Rock Resort offers every possible luxury. 71 lodge suites and 62 beach suites offer all the comforts of home. www.blackrockresort.com


$135+

$135+

CABINS AT TERRACE BEACH 1090 Peninsula Road 1-866-438-4373 or 250.726.2101


"Check in & Chill out." Beautiful, private oceanfront , beachside & waterfront CABINS on the Wild Pacific Trail. Pets welcome. www.thecabins.ca

$99

$169 +

Z3

CABINS WEST 1258 Boardwalk Blvd. 250-726-7778 or 1-888-726-7770


"Check in & Chill out." Beautiful, private oceanfront , beachside & waterfront CABINS on the Wild Pacific Trail. Pets welcome. www.thecabins.ca

$125+
$185+

H

CANADIAN PRINCESS RESORT 1943 Peninsula 1-800-663-7090 250-726-7771
Just minutes from famous Long Beach. Unique ship or shore accommodations. Ship-board dining and lounge. Gift shop. Fishing, Nature Cruises and tour packages.

$63+
$79+

A5


FORTUNE COVE CABINS1210 Minato Road 250-726-2406

Secluded waterfront setting. Fully equipped kitchen, woodstove, timber frame cabins. Pet friendly. Close to town and trails. www.westcoastcabins.com

$85+
$125+

Z

HE-TIN-KIS LODGE 366 Reefpoint Rd 250-726-2928 or 1-877-726-2928

OCEANFRONT. A unique modern lodge in a pristine forest setting. Private beach. Self contained private guest suites. Jacuzzi & soaker tubs, BBQ, WiFi. Great deals.

$99+
$199+

Y1


LITTLE BEACH RESORT 1187 Peninsula Rd. 250-726-4202 or 1-877-726-4202
Quiet duplex cabins, overlooking open ocean. Self-contained 1 & 2 bedroom suites, kitchenettes, sleeping or jacuzzi rooms. Best view in town, great rates.

$69+
$119+

MORNING MAGIC Guest House & Cottages 250-720-9751

Ucluelet's newest luxury accommodation provider on an acre of waterfront property. Guest house sleeps 8 people, and two cabins sleep 4 people. www.morningmagiclodge.com

$169+
$225+

P

PACIFIC RIM MOTEL 1755 Peninsula Rd. 250-726-7728

Overlooking Ucluelet harbour. This quaint little 45 unit hotel is a short drive to Long Beach. Sleeping & housekeeping units, with colour cable TV and free high speed internet pacificrimmotel@ukkeecable.net

$75+
$120+


A4


POINT WEST WATERFRONT COTTAGES 2345 Pacific Rim Hwy. 250-726-7060
4 self contained cottages on 2 acres of private waterfront property. All with hot tubs and BBQs. Bring your kayak or canoe and launch from your doorstep. Many different species of birds to watch from your window or deck. 1 km to Pacific Rim National Park. Great romantic getaway! pointwestcottages.com

$120+
$165+

Z1



REEF POINT COTTAGES 1012 Peninsula Rd. 1-877-726-4425 or 250-726-4425

Beautiful Cottages, just steps from beaches and Wild Pacific Trail. All cottages have kitchens, BBQs, DVDs;some are pet friendly with hot tubs. www.reefpointcottages.com

$99+
$149+

across from
_L_

SURFSINN BACKPACKERS1874 Peninsula Rd. 250-726-4426
Affordable dorm style or private rooms in the backpacker's lodge overlooking the marina. Or you can stay in a private rainforest cabin. Full kitchens & fireplace, common room.

$22+
dorm
$28+
dorm

Z5

TERRACE BEACH RESORT 1002 Peninsula Rd. 1-866-726-2901 or 250-726-2901
Jason Priestley and family welcome you to their cozy beach front resort. Offering a variety of accommodations, including bachelor suites, boardwalk lofts, one and two-bedroom suites, & waterfront cabins. Pets always welcome. www.terracebeachresort.ca

$99+
$99+

THORNTON MOTEL 1861 Peninsula Rd. 250-726-7725
Centrally located, close to local beaches, 15 minutes to Pacific Rim National Park. Sleeping units, kitchenette units, and two bedroom suites. Cable TV + DD phones, no pets. 100% no smoking. Call for rates. www.thorntonmotel.com

Call
Call

E

WATER'S EDGE RESORT 1971 Harbour Crescent 250.726.2672
Casually elegant 1 & 2 bedroom fireplace suites, some with soaker tub on private deck. Complimentary kayaks, bicycles, Wi-Fi, DVDs. Some pet-friendly.

$99+
$99+

_K_

WEST COAST MOTEL on the Harbour279 Hemlock 250-726-7732
info@westcoastmotel.com Clean, friendly, family-operated motel centrally located at Ucluelet Small Craft Harbour - close to restaurants, charter fishing & whale watching, hiking & National Park. Non-smoking, no pets. Many units with harbour views. Indoor pool, & gym.DD phones, high-speed internet, cable TV.

Call
Call

_N_

WHALE'S TAIL GUEST SUITES 1906 Bay Street 250-726-2985
Large 1, 2, and 3 bedroom vacation suites. Full kitchens. Quiet setting, grassy area away from traffic. Office & pool/gym at West Coast Motel. 279 Hemlock Road.www.whalestailguestsuites.com

$89
$165

WILD PACIFIC Waterfront Cabins 277 Boardwalk Blvd. 250-726-2707

Luxurious cabins, nestled along Spring Cove, steps from beaches and the Wild Pacific Trail. Featuring full kitchens, hot-tubs, and rock-fireplaces. www.wildpacificcabins.com

$99+
$150+
A1


WYA POINT RESORT Wya Point off Willowbrae Road 250-726-3401

Beachfront YURTS nestled in the rainforest fringe. Private beach, ocean view decks, BBQ. New yurts, nicely furnished and heated. Washroom and hot shower facility wyapoint.com. "Go Glamping!"

$100+
$225

location

Rates According to season

UCLUELET B&B


Z7

A WILD PACIFIC B&B wildpacificbedandbreakfast.ca 1-800-211-0374 or 250-726-7665

Steps to Lighthouse Loop section of the Wild Pacific Trail. Private entry/washroom, queen & single beds, electric fireplace, TV, wireless internet, fridge, microwave, in-room tea & coffee. Full hot breakfast served to the privacy of your room. Continental breakfast is available the night before upon request for early adventure tours and departures. Low season specials available.

$110+
$145+

CYNAMOKA GUEST SUITES & Coffee House 1536 Peninsula Road 250-726-3407
Two Queen Guest Suites with fabulous harbour and mountain view. Private entry and bath. Soaker tub/shower. Cable TV. Breakfast is a real treat, served from our small coffee house featuring fresh locally roasted coffee and fresh baked goods and home cooking.

$90+
$160+

Z6



EBB TIDE B&B 967 Peninsula (at Spring Cove) 250-726-2802
Oceanfront/secluded pebble beach; spectacular views from rooms, decks & guest lounge. Private entry/baths. Gourmet breakfast • storm watching • metres from Wild Pacific Trail & lighthouse. Minutes to Pacific Rim National Park. Visa, MC/all year. www.ebbtidespringcove.com

$105+
$169+

MAJESTIC OCEAN B&B 1167 Helen Road 1-800-889-7644
A friendly seaside retreat with waterfront hot tub and deck. Private entry to premium allergy-free rooms. Delicious breakfasts served. Internet/satelite TV. 250-726-2868 majesticoceanbb.ca


$125+
$169+

A2


MOON & SIXPENCE 237 Mavis Ave. 1-866-726-7269 or 250-726-7268
Quiet harbourview property. Includes a hearty wholesome full breakfast. King, Queen or twin beds. Hot tub. Open all year. www.moonandsixpencebb.com

$110+
$145+

Y


OCEAN DREAMS B&B 1214 Peninsula Rd 1-866-726-4248 (toll free)
Breathtaking Ocean Front B&B on picturesque Little Beach. Beach access. Two private self-contained suites. Enjoy breakfast served in your room. Wonderful views of open Pacific. Wildlife at your doorstep. Walk tothe Wild Pacific Trail.

$125+

$165+

OCEAN MIST GUESTHOUSE 966 Peninsula Rd 1-877-726-6478

Oceanview, private entry, self contained with kitchenette. (microwave no stove). Gourmet breakfast served to guest rooms. Near the Wild Pacific Trail, lighthouse, and beaches. www.oceanmistgh.com

$110+
$150+

Skip to the TOP

..........

Click here for a large overview map of Ucluelet
location

Rates According to season

UCLUELET CAMPING



Park 1


SURF JUNCTION CAMPGROUND Tofino-Ucluelet Junction 1-877-922-6722 or 250-726-7214
Forest tent sites, 30-amp full service RV sites. 8 km to South Long Beach. Surf rentals, hot tub, sauna, showers, flush toilets, espresso bar, store, pets OK.

$18+

$25+

_D_

UCLUELET CAMPGROUND 260 Seaplane Base Rd. 250-726-4355

Walk to village center from 100 waterfront or forested sites. Full & partial hook-ups, or tent sites. Washrooms, showers, & boat trailer storage; near private boat launch.

$22+
$37+

A1


WYA CAMPGROUND
Wya Point Road, off Willowbrae Road. 250-726-3401

A beautiful natural camping and RV experience on a private beach. Trails to Pacific Rim National Park, swim, fish, washrooms, firewood. Office at Wya Welcome Centre, highway 4 junction.

call

$30-60
location

Rates According to season

TOFINO ACCOMMODATION

Map #
D e s c r i p t i o n
Click map # next to descriptions for correct map.
S e a s o n
Low versus High
Canadian Dollars

_8_


BEACH BREAK LODGE 1337 Chesterman Beach Rd. 250-725-3883
Spectacular, oceanfront, self contained executive suites on Chesterman Beach. Private entrances, hot tubs, fireplaces, patios and sandy beaches. Pure luxury. www.beachbreaklodge.com

$175+
Low Season
$325+
High Season

5


BEACHWOOD 1368 Chesterman Beach 250-725-4250

Comfort & privacy in deluxe 700 sq ft. coach house. Kitchen, woodstove, skylights, balcony, TV/DVD, stereo. Across from beach.

$139+


$219+

20


COBBLEWOOD & BIRD SANCTUARY GUEST HOUSES 1115 Fellowship 250-725-2741
Private suites with kitchenettes, fireplaces, optional jacuzzi. Near beaches, bird sanctuary & botanical gardens. Families and couples are welcome. www.tofinovacation.com

$75+

$150+

2


COX BAY BEACH RESORT.com 1431 Pacific Rim Hwy 250.725.2600

Chic lodging for your ultimate getaway experience. Escape to where the wilderness meets the revitalizing ocean.

$170+

$290+

14


CRYSTAL COVE BEACH RESORT 1165 Cedarwood Place 1-877-250-4213
Private self-catering log cabins and RV park on MacKenzie Beach. Hot tubs, fireplaces, BBQ's and pet friendly too!. www.crystalcove.ca reservations@crystalcove.ca

$160+

$290+

12


DOLPHIN MOTEL 1190 Pacific Rim Hwy. 250-725-3377
Five minute walk to Chesterman Beach. Private baths, cable TV. Sleeping units have coffee and fridge. Housekeeping units have full kitchens. BBQ area.

$60+

$115+

58


DUFFIN COVE RESORT 1-888-629-2903 or 250-725-3448


Waterfront cabins kitchen suites. Lovely westerly view of Clayoquot Sound; yet near downtown. Book early! 215 Campbell. www.duffin-cove-resort.com

$89+

$235+

ECO LODGE at Tofino Botanical Gardens 250.725.1220

1084 Pacific Rim Hwy. A comfortable conservation- based retreat. Ten private bedrooms, cosy common room, kitchen, library, classroom. Located on 12 ACRES OF WATERFRONT GARDENS. wireless Internet; www.tbgf.org

$79

$149

6


GOLD COAST RETREAT 1338 Chesterman 250-725-3789


Chesterman Beach cabins with private yard. Awarded #1 by Flipkey Trip Advisor for vacation rentals in Tofino 2011

$125+

$195+

52


HIMWITSA LODGE 300 Main St. 250.725.2830 or 250.726.5069


Spectacular inner harbour view suites with kitchenettes, fireplaces, private decks with hot tubs, queen beds, WiFi, and satilite TV. Private bathrooms and spacious suites.

call

call

47


INN AT TOUGH CITY Box 8, 350 Main St. 250-725-2021
Wheelchair accessible. Beautiful stained glass & brick inn with eight gorgeous view rooms located on Tofino's harbourfront. Private baths, deep soaker tubs, fireplaces. Sushi Bar.

$99+

$169+

10


JAMIE'S Rainforest Inn 725.2323 or 1.855.433.2323
Spacious suites. Fireplaces . kitchenettes . jacuzzi tubs. Trails to waterfront bird sanctuary. Pet friendly units. Restaurant and lounge. Great adventure packages! 1258 Pacific Rim Hwy tofinorainforestinn.com

call
call

17


MACKENZIE BEACH RESORT 1101 Pacific Rim Highway 250-725-3439
Cabins on a long sandy beach facing the open Pacific. Indoor saltwater pool & hot tub. Some campsites. Winter rates. www.mackenziebeach.com

see our site
see our site

51


MAQUINNA HOTEL 120 First St. 1-800-665- 3199 or 250-725-3261
Overlooking Tofino Harbour and Meares Island. 32 remodelled rooms. Cable TV/ D.D. phones. Beer & wine store, and neighbourhood pub. 250-725-3261

$65+

$130+

26


MARINA WEST RESORT 634 Campbell St. 250-725-3277 or 1-800-665-8922
Harbour views, fireplaces, kitchenettes. Jack's Pub, Greenroom Diner and Marine Centre: fishing, whale watching, kayaking. www.marinawest.com

$100+

$160+

15


OCEAN VILLAGE BEACH RESORT 250-725-3755

Oceanfront cottages just steps from the sand of MacKenzie Beach. Five hundred feet of beachfront, heated indoor pool and hot tub. Tofino's best value on the beach. www.oceanvillageresort.com


$110+

$155+

71


ON THE BEACH 351 Tonquin Park Rd. 250-725-2827
Spectacular, 1500 sq. ft. private, beachfront suite, featuring separate King, Queen & Twin bedrooms with two bathrooms. Cosy fireplace in the Great Room, kitchen, BBQ & a private sunset beach with tide pools. 5 minutes to town.

$200+

$300+

3

click to view

PACIFIC SANDS BEACH RESORT 1-800-565-BEACH or 250-725-3322
Metres from the surf. Fully equipped one to three bedroom Beach Houses and Suites, directly on Cox Bay. www.pacificsands.com info@pacificsands.com
click for location: _3_

$150+

$300+

60


SCHOONER MOTEL 315-321 Campbell 250.725.3478

Rooms & kitchen suites with mountain view overlooking Tofino Inlet & Meares Island. Centrally located. www.schoonermotel.ca CAA/AAA.

$69+

$139+

16


TIN-WIS RESORT/BEST WESTERN 1-800-661-9995 or 250-725-4445


Idylic beach metres from your balcony. Spectacular views, fireplaces and kitchenettes available. Restaurant and Fitness Room.

$139+

$269+

TOFINO BEACH HOMES 250.725.2570


Stunning selection of vacation homes on Chesterman Beach & area or Tofino harbourfront. www.tofinobeach.com & www.eiklanding.com

$125+

see our site

24


TOFINO INLET COTTAGES.com 350 Olsen Road 250.725.3441

Cedar cabin with private oceanfront hot tub, or 4 separate self contained cottage suites. Spectacular views and decks. High speed WiFi

$90
$130

25


TOFINO SWELL LODGE 341 Olsen Rd. 250.725.3274

Small lodge on waterfront overlooking Meares Island. Dock, charters, hot tub, BBQ, & common kitchen-sitting area. Bedrooms with bathrooms

$85
$125

40


TOFINO VACATION RENTALS 1-877-799-2779 430 Campbell.
Tofino's premier beachfront

and

oceanfront vacation rental properties. www.tofinovr.com or www.southchestermantofino.com

see our site

see our site

55


WHALERS ON THE POINT GUESTHOUSE 81 West St. 250.725.3443


Hostelling International. Custom built. Spectacular view. Living & dining room, fireplace, solarium, sauna, kitchen, private/share rooms.

email

email

11



click here

WICKANINNISH INN 1-800-333-4604 or 250-725-3100
Rustic elegance on nature's edge. Be our guest! Enjoy attentive service, spacious accommodations, Pointe Restaurant and Ancient Cedars Spa. All the amenities you so deserve, on beautiful Chesterman Beach. www.wickinn.com

$260+

$500+

Skip to the TOP

..........

Click here for a large overview map of Tofino

location

Rates According to season

TOFINO B&B


31


ADVENTURE TOFINO B&B 615 Pfeiffer 250.725.2895

Centrally located, stunning views. King & queen rooms, ensuite bath, lounge. German host, friendly hospitality, full breakfast. Wildlife tours

$89+

$149+

30


BEDWELL PLACE B&B 615 Campbell St. 250.725.2856

Immaculate, comfortable – private entrance & bath – Hot Tub - Hi Speed WiFi walking distance to all restaurants & tours. Great views.

Call

$140+

71


BLUE BEAR B&B 327 Tonquin Park 250.725.3860

Ocean view above Tonquin Beach. King or queen room with ensuite bathroom & private entry. Full or lite breakfast. bluebearbandb.com

$125+

$150+

5


BRIMAR on the BEACH 1375 Thornberg Crescent (250) 725-3410
Elegant 3 bedroom B&B on Chesterman Beach. Breathtaking ocean view. Buffet breakfast; adult oriented, no pets, all year. Visa/MC brimarbb.com

$79+

$259+

7


CHESTERMAN BEACH B&B 1345 Chesterman Beach 250-725-3726
Private beachfront suites & Garden Cottage. Sweeping ocean views, fireplaces, private entries and private bathrooms. Gourmet breakfast, families welcome. www.tofinoaccommodation.com

$145+

$280+

70


CLAYOQUOT RETREAT 120 Arnet (fax: 725-3300) 250.725.3305

All oceanview, waterfront rooms (qn. or twin size). Oceanside hot tub, priv. bath, TV, fridge & full buffet breakfast. Short walk to town & beach.Pets.

Not open

$150+

19


HUMMINGBIRD B&B Box 565 250.725.2740

Private bath & entrance, wheelchair accessible. Five minute walk to the beach. 640 Mackenzie Beach Rd. www.TofinoHummingbird.com

$55

$150

69


MEARES RETREAT B&B 140 Arnet 250.725.4234

Waterfront cliff house. Qn. beds, private baths, panoramic ocean & mtn. views. Outdoor hot tubs. Cont'l breakfast. mearesretreat@telus.net

$125+

$175+

9


SAUNA HOUSE B&B CABIN 1286 Lynn 250.725.2113

Cosy cabin with woodheat sauna (sleeps 2-3) and Birdlover's Loft. Private. Across the road from Chesterman Beach. www.saunahouse.net

$60+

$90+

68


THE TIDE'S INN B&B 160 Arnet Rd. 250.725.3765

Spacious view, waterfront rooms (qn or twins). Decks, priv. baths, jacuzzi, fireplace, TV, fridge. Walk to beach/town. www.tidesinntofino.com

Call
$155+

Click here for a large overview map of Tofino
This website is based on a fold-out map updated annually. If you wish a copy of this map to be mailed to you click here.
Skip to the TOP