Wildlife Tours in Barkley & Clayoquot Sound
The Pacific Rim of Vancouver Island is a wilderness area recognized as a United Nations Biosphere Reserve and a National Park.
Wildlife such as whales, bears, eagles, sea lions, otters, birds call this beautiful area home. Visit websites below to learn about the different tour options available. You can spend a long time on the Pacific Rim if you want to hit all the to-do's on this list!

Ucluelet Companies
Ucluelet is the gateway into Barkley Sound and the Broken Group Islands. Visit the websites below for more information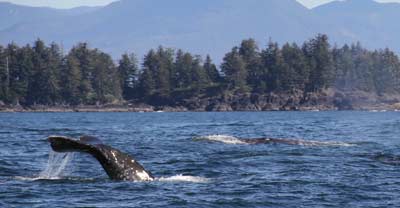 Map #

WHALE & BEAR WATCHING


G1

ARCHIPELAGO CRUISES.com Canadian Princess Marina 250.726.8289
See whales, bears, sealions and eagles in comfort aboard a luxurious 53' yacht. Enjoy our famous Broken Group Islands Wildlife Cruise with gourmet lunch, or relax on our Evening Wildlife Cruise. Custom charters. www.archipelagocruises.com

_I_

BEACHCOMBER OCEAN TOURS www.wildedgewhales.com 250-726-3444
Whales • Bears, open year round. High speed, heated 12 pass. crew boat with toilet. Located in Ucluelet's Boat Basin (small craft harbour)

_V6_

CAMERON OCEAN ADVENTURES Whiskey Landing Dock 2, Main Street Ucluelet 1-778-400-5800
Whale Watching, Sea Lions, Sea Otters, Eagles, Marine Birds and much more all in one tour aboard our 43' enclosed, heated cruiser.Top notch guides • conveniently docked by Ucluelet aquarium. Fishing and private charters. www.cameronoceanadventures.com

V7

JAMIE'S WHALING STATION & Adventure Centre 250.726.7444 1-877-726-7444
Wildlife adventures! Whale or Bear trips. Zodiacs to cruisers. Hot Springs • Kayaking • Meares Island • Custom tours • Cultural canoe tours. Also in Tofino. www.jamies.com 168 Fraser Lane, Ucluelet. www.jamies.com

G

SUBTIDAL ADVENTURES 1.877.444.1134 or from Tofino/Ucluelet 250.726.7336
Celebrating 42 years of Quality Wildlife Viewing. WHALE, BEAR and year-round Nature Tours to Barkley Sound. Cabin Cruiser or Zodiac. Whales, sea lions, seals, eagles & sea otters. info@subtidaladventures.com 1950 Peninsula Rd. (Large cedar building with blue roof). subtidaladventures.com

Map #

SCENIC FLIGHTS

& Hwy 4

WESTCOAST WILD • Float Plane 1990 Bay Street, Ucluelet Book at: 1.877.992.9453
Flight-Seeing charters from Island West Resort Marina in Ucluelet harbour: Aerial Whale Watching • Della Falls • West Coast Trail. Hot Springs Cove wcwild.com.

Map #

_O_

LONG BEACH FISHING CHARTERS 1962 Bay Street, Ucluelet BC 1-877-726-2878
or 250-726-FISH (3474) Professionally guided salmon and halibut charters since 1976. Boats are 24 to 32 feet, exceeding Coast Guard requirements. Gear and fish processing provided. longbeachcharters.com.

_J_

SALMON EYE CHARTERS 160 Hemlock Street, Ucluelet BC 1-877-777-4334
Heated 27' to 29' for both inshore and offshore fishing. Ask about our 50lbs a day guarantee on multiple day packages. See www.salmoneye.net for current fishing reports! Also check out this video link.

_G1_

WEST COAST OCEAN CHARTERS 1943 Peninsula, Ucluelet BC 250-218-8527
Fully guided fishing for salmon & halibut aboard a custom 24ft Searay. 18 years experience in the Pacific Northwest. Also wildlife viewing and historic harbour tours. Perfect safety record.
Tofino Companies
Tofino is the gateway into the wonders of Clayoquot Sound. Visit the websites below for more information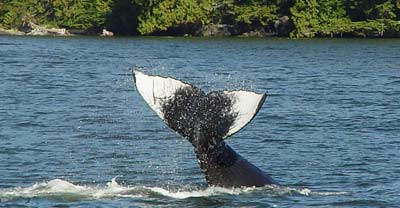 Map #

WHALE & BEAR WATCHING

31

ADVENTURE TOFINO 421 Main Street 250.725.2895
Whales, Bears & Hot Springs. Small groups. German & English speaking. See TripAdvisor.. www.adventuretofino.com

BROWNING PASS CHARTERS 390 Main St. 250.725.3342 or 726.8605
Cruise in comfort on 37' yacht. Excellent viewing deck for bears, whales & wildlife. Heated cabin & WC. Dinner cruises, Hot Springs, Freedom Cove, private charters. browningpass.com

32

JAMIE'S WHALING STATION & Adventure Centre 250.725.3919 1-800-667-9913
Wildlife adventures! Whale or Bear trips. Zodiacs to cruisers. Hot Springs •
Kayaking • Meares Island • Custom tours • Cultural canoe tours. 606 Campbell Street. Also in Ucluelet. www.jamies.com

32

MARINE ADVENTURE CENTRE at Tofino Resort 634 Campbell St. 778.841.0186
Tofino's only cook-your-catch fishing trip • diving • whale and bear watching • plus Hot Springs Cove trip. tofinoresortandmarina.com

46

OCEAN OUTFITTERS 368 Main Street 1.877.90.OCEAN or 250.725.2866
Guaranteed whales, bears, Hot Springs Cove tours & Meares Island water taxi. Luxury vessels with washrooms (Zodiacs or covered). Great family rates. Voted #1 Charter Co. oceanoutfitters.bc.ca

48


REMOTE PASSAGES Visit 51 Wharf St. or Toll-free 1-800-666-9833
Whale Watch / Hot Springs with the Zodiac specialists — also custom cabin tour vessel. Experience whales, bears, Meares Island rainforest. See also Kayaking. Multi-tour discounts. remotepassages.com

32

TOFINO WATER TAXI Poseidon's Adventure Centre 750 Campbell St. 250.725.8844
Offering tours and shuttles year round during daylight hours. Locally owned and operated. 750 Campbell Street. Tofino's only cook-your-catch fishing trip • diving • whale/bear watching • Hot Springs.

42

WEST COAST AQUATIC SAFARIS 101 Fourth St. 250.725.9227
#1 EXPERIENCE: Whales, Hot Springs, Bears, Marine Charters. Tofino's BEST! All Weather Boats with restroom. Excellent on Trip Advisor. Pre-booking advised. whalesafaris.com

39

WHALE CENTRE Clayoquot Sound Eco-Tours 411 Campbell 250.725.2132 or 1.888.474.2288
Whale Watch/Hot Springs/Bear Watch/Bird Watch/Museum. Local Skippers. The company that cares. Established 1983 tofinowhalecentre.com

Map #

Clayoquot Sound FISHING

BIGGAR FISHING CHARTERS 14TH Street Dock 1.800.307.0277
Tofino's premier fishing charter company since 1995. Your unforgettable adventure awaits!Visit our website to learn more: biggarfish.com

Skip to the TOP