Surfing is great year-round ! Click below for videos.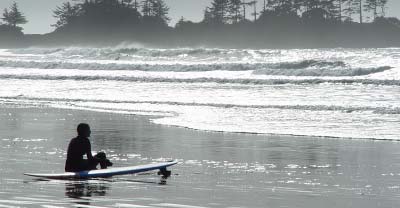 Tofino Surfing
Map #

SURFING
SHOPS, RENTALS & LESSONS

13

LIVE TO SURF 1180 Pacific Rim Hwy www.livetosurf.com 250.725.4464
Complete surfing rentals, and retail sales of bodyboards, wetsuits, and a variety of surfboards. Childrensizes available. Great clothing, skateboards and skimboards too. Established in 1984 www.livetosurf.com.

LONG BEACH SURF SHOP.com 630 Campbell (also in Ucluelet) 250.725.3800
Lowest rental rates. Your friendly neighborhood surf shop, with great gear to rent or buy. We carry a full range of surf products from value conscious to unique hand crafted surfboards. www.longbeachsurfshop.com

40

PACIFIC SURF SCHOOL 411 Campbell Street, Tofino 1.888.777.9961 or 250.725.2155

Offering an unforgettable surfing experience since 1998. Our certified instructors incorporate their local knowledge and passion for the water to offer the most comprehensive surf & SUP lessons on Canada's west coast. With lessons, camps, and rental gear for the beginner to advanced surfer or paddle boarder enthusiast, we are a one stop shop! www.pacificsurfschool.com.

29

SURF SISTER SURF SCHOOL 625 Campbell Street, Tofino 1-877-724-SURF (7873) or (250) 725-4456

Learn to surf with Tofino's ORIGINAL surf school! Lessons (for guys too) clinics and packages. Surf Sister offers Daily Lessons, Weekend Clinics, Teen Camps, Mother & Daughter Camps and All-Inclusive Packages. All ages and abilities welcome! Gear provided. Year round www.surfsister.com

36

Sepp Bruhwiler's WESTSIDE SURF 150 4th & Campbell St. 250.725.2404
Lessons with premiere instructors for all ability levels • Quality rentals & gear • Surf camps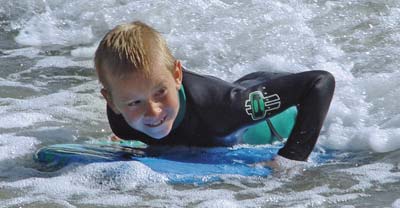 Ucluelet Surfing
Map #

SURFING
SHOPS, RENTALS & LESSONS

B

LONG BEACH SURF SHOP: 250-726-2700 2060 Peninsula Road.
Lowest rental rates. Your friendly neighborhood surf shop with a huge selection of gear to rent or buy. Also in Tofino at 630 Campbell Street (250.725.3800). www.longbeachsurfshop.com

RELIC SURF SHOP.com: 1998 Peninsula, Ucluelet 250.726.4421
BEST rental rates and you don't have to rush back to return your surf gear. Private, group and family lessons. Beginners welcome. Surf apparel to keep you warm AND cool! www.relicsurfshop.com

WICK'D SURF SCHOOL 1559 Imperial Lane 250.266.0338
Surf lessons - surf camps - surf guiding. Owner operated. Safe and professional lessons at any beach from Wickaninnish to Tofino. Healthy homemade snacks included! www.wickedsurfcamps.com

Skip to the TOP

Map #

FITNESS CENTRE

WEST COAST FITNESS CENTRE 279 Hemlock St. 250.726.7732
Indoor pool, sauna, & 3,000 sq. foot state-of-the-art gym over-looking the marina. Drop-in shower facilities. Open Monday to Sunday 9AM-9PM Sunday 9-6. @ Westcoast Motel www.westcoastfitnesscentre.com.